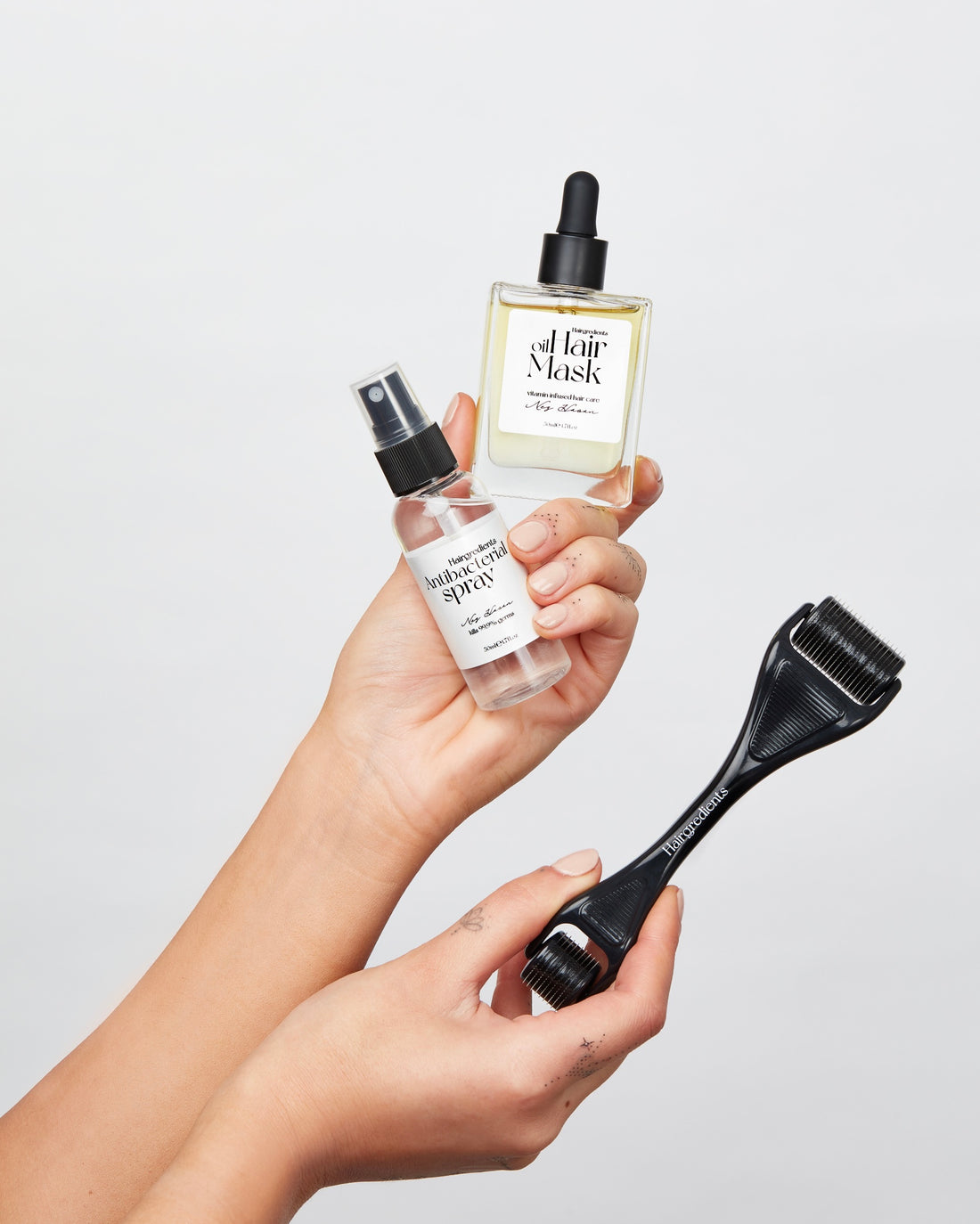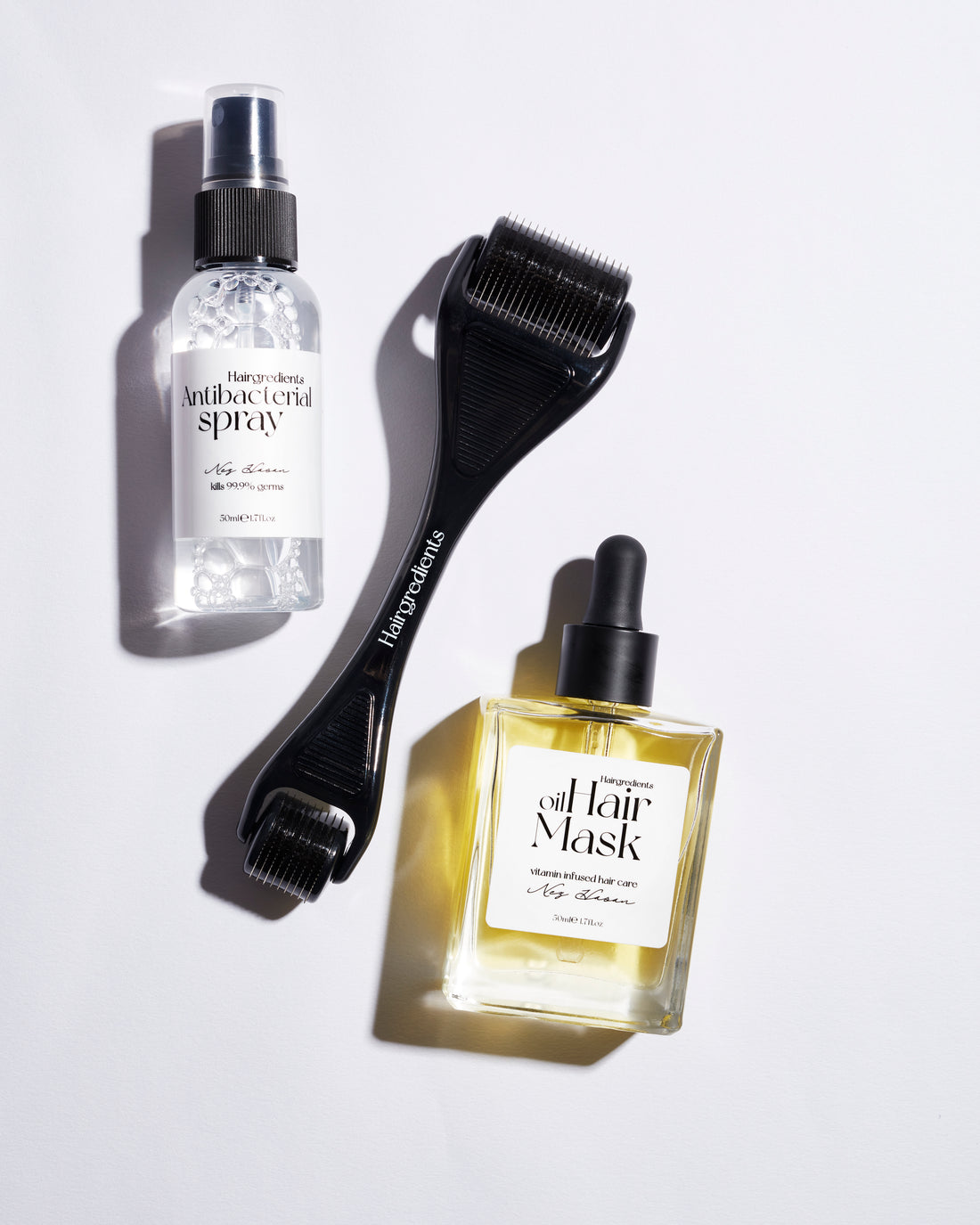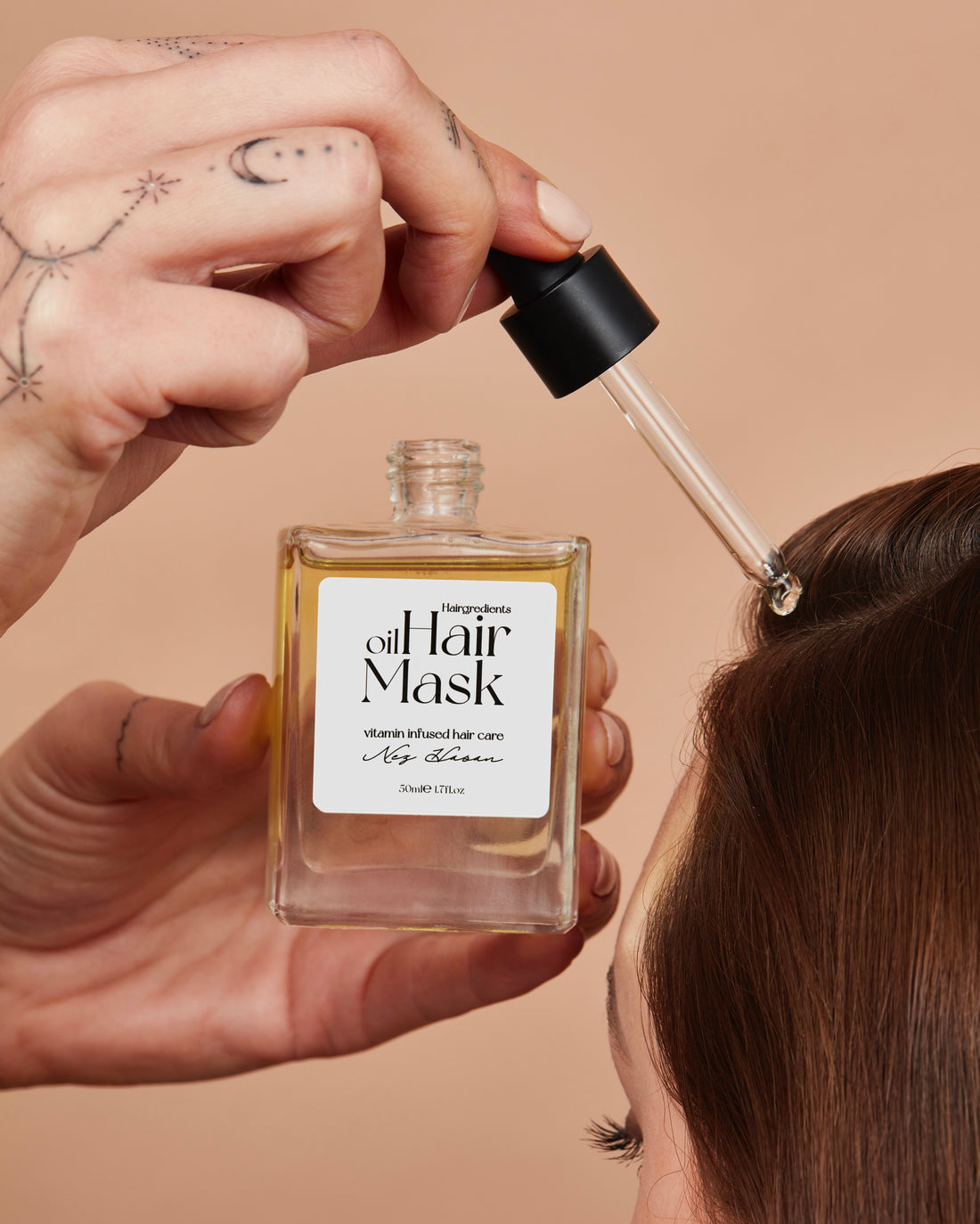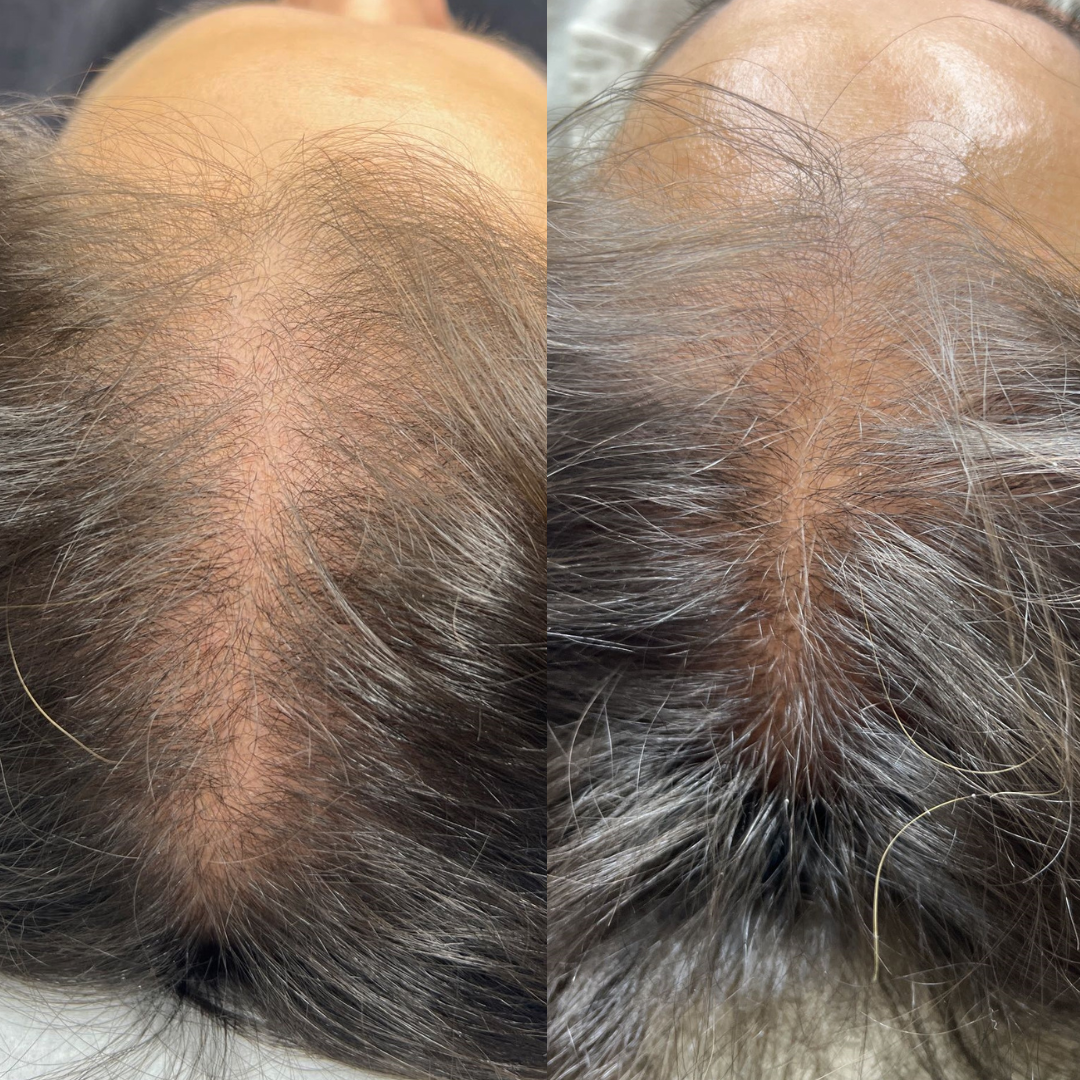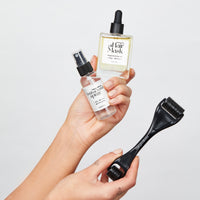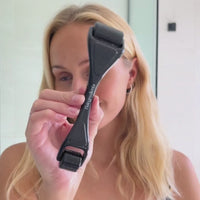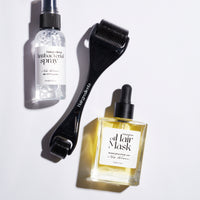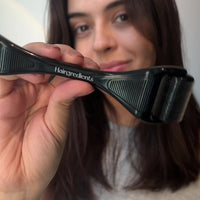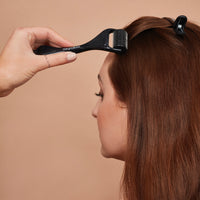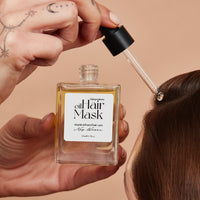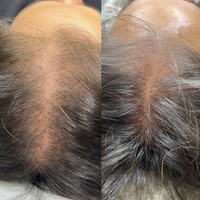 Oil Hair Mask together with our Derma Roller is designed to stimulate the hair follicles by gently pricking the skin open and applying all the nutrients and vitamins it needs. This powerful combination will help awaken the hair follicles giving you healthy, fuller, stronger hair as well as silky smooth locks. 
The Kit also includes our Antibacterial Spray designed to prolong the life of your Derma Roller. 
Ricinus Communis Seed Oil (Castor Oil), Prunus Amygdalus Dulcis Oil (Almond Oil), Cocos Nucifera Oil (Coconut Oil), Linum Usitatissimum Seed Oil (Flax), Agrania Spinosa Kernel Oil (Kernal Oil), Tocopheryl Acetate (Vitamin E), Aloe Barbadensis Leaf Juice (Aloe Vera), Biotin (B7), Hydrolyzed Keratin (Keratin), Simmondsia Chinensis (Jojoba Seed Oil), Allium Sativum Bulb Oil (Garlic Oil), Olea Europe Fruit Oil (Olive Oil)
The Derma Roller is made of 540 1mm titanium needles.
How should I use The Hair Kit and when?
Ends of the Hair: Apply 2-3 drops of the Oil Hair Mask to either damp or dry hair. Can be used daily before or after styling to smooth ends, giving them a healthy bounce whilst feeding them with all the essential vitamins. 
Scalp & Hairline: Step 1, section the hair. Step 2, using the Hairgredients Derma Roller, roll over each section in different directions 3-5 times. Step 3, apply 1-3 drops of the Oil Hair Mask onto each area and massage to activate hair follicles. The Oil Hair Mask can be used daily on the hairline.  
Hair Mask: Use as above then cover the hair with a heated towel and leave on for at least one hour before showering. Leave on overnight for extra strengthening, hydration & smoother hair. 
We recommend The Derma Roller to be used once a week with the Oil Hair Mask to help awaken the hair follicles. Begin by going back and forth three times on the targeted area with the derma roller then apply the oil as above. 
Do I need to clean my micro needle derma roller?
Please ensure your Derma Roller is sterilised after each use with our Antibacterial Spray.
Can I use The Hair Kit during chemotherapy?
Yes its completely safe during chemotherapy and after as its full of amazing natural vitamins! 
Can it grow my hair?
Hairgredients contain essential proteins and nutrients that can help awaken the hair follicles. We recommend The Derma Roller to gently prick the skin open so that these key ingredients can go into the hair follicles. 
Please note, if used to stimulate hair follicles, it can take up to three months to show results with regular use, if the hair follicles are still active. This is a hair care. 
Do you test on animals?
Absolutely not. We are also vegan, chemical & preservative free.
Does it have a scent?
Our products are unscented... and that's a good thing. Hairgredients is made with natural oils and the scent only emanates from the ingredients.  
What hair type is it best to use it with?
Hairgredients is suitable for all hair types.
Can I use the Oil Hair Mask by the beach/pool?
Yes you definitely can! We recommend you use it after the sea or pool to protect your hair from extra drying out due to the salty or chlorine waters and the sun. You can use as many times as you wish during the day. 
Can I use the Oil Hair Mask if my hair is coloured? 
Yes, after you colour your hair you tend to lose the moisture in your hair and can see some colour damage. We recommend you use Oil Hair Mask to help bring that healthy shine back and to feed your hair with all the perfect ingredients it needs to be re loved. 
Is the oil hypoallergenic? 
Our product is made with only the highest quality of natural ingredients and we recommend that people ensure that they are not allergic to any of the ingredients before use. This product contains traces of nuts (almond oil).
What kind of results can I expect with Oil Hair Mask?
The Oil Hair Mask contains active ingredients which nurtures from your scalp to your locks, encouraging stronger, smoother and shiny healthy-looking hair. This powerful cocktail will give your dry and damaged hair all the love it needs to repair broken bonds caused by chemical and thermal damage. Oil Hair Mask provides essential nutrients and vitamins to help awaken the hair follicles. 
What if I miss a day?
Don't worry! It will still work if you miss a day or two however, consistency is the key to achieve the best results. We believe beauty comes with routine. 
How long will it last me?
With the recommended regular use each bottle should last you between 3-4 months.
Will it help with my hairline thinning?
Yes it definitely will! This can happen to a lot of women during or after pregnancy and with age. Using the Oil Hair Mask regularly will help the hair from further thinning. Furthermore, if you book the in salon treatment (Hair Vitamin) this will help regain your hair strands and follicles the strength back within a few sessions. 
What do you recommend if I see growth using the oils?
We recommend you come in for our in salon Hair Vitamin Treatment where we use the Pro Use Oil with a medical graded derma pen to insert the oil deep into your hair follicles and to get them back to work from resting for either your scalp, beard or hairline. 
Can pregnant women use it?
Yes! Pregnant women can use both our products and also while breast feeding as they both contain only natural infused ingredients and no chemicals are added. The in salon treatment is also safe for both pregnant women and while breastfeeding. During pregnancy hormones can change so please check you have no new allergies to the ingredients.  
Featured in
Deeply nourishes your hair, gets rid of split ends, encourages scalp health and new growth. 
Begin your hairs self care journey with The Hair Kit. The dream team of ingredients.