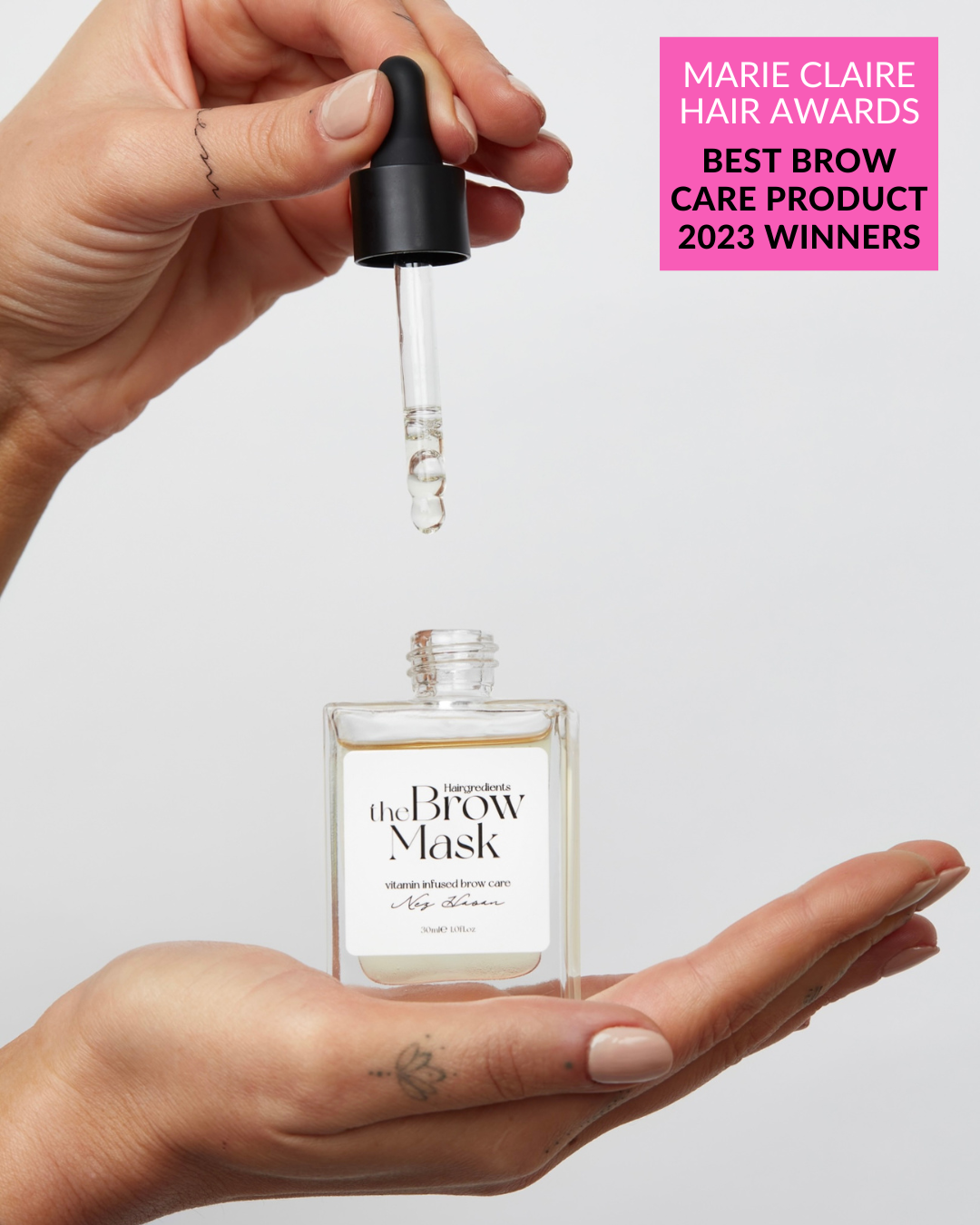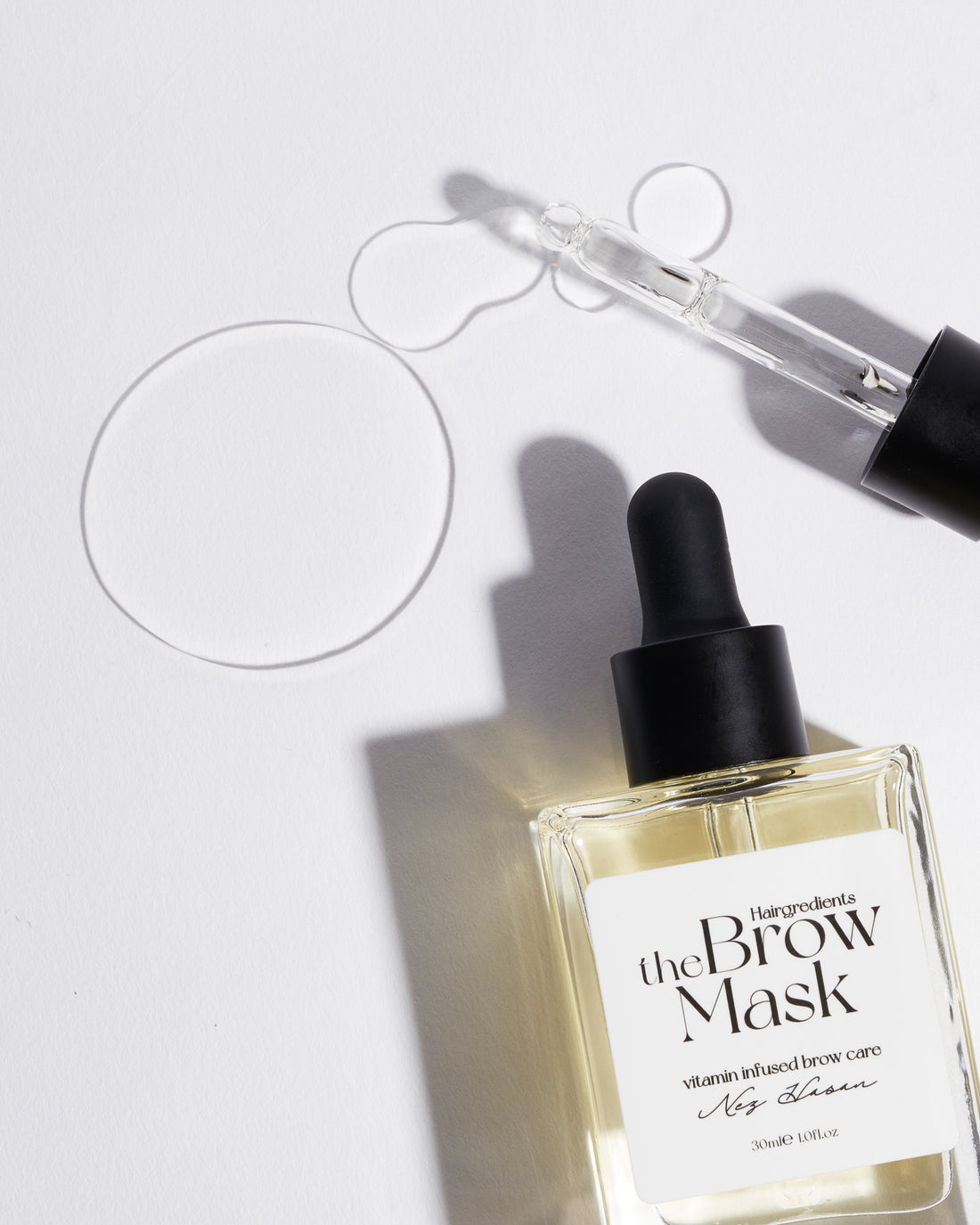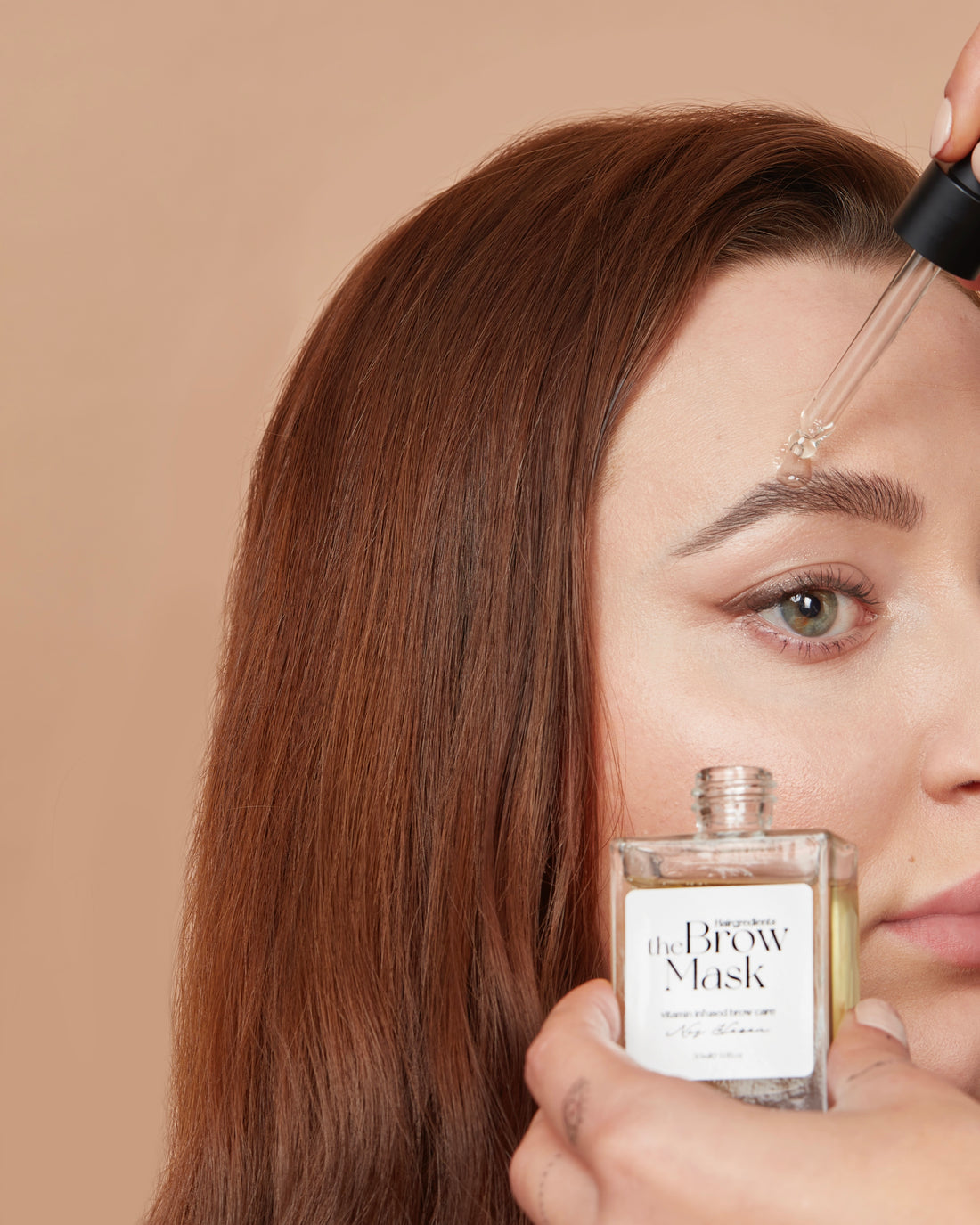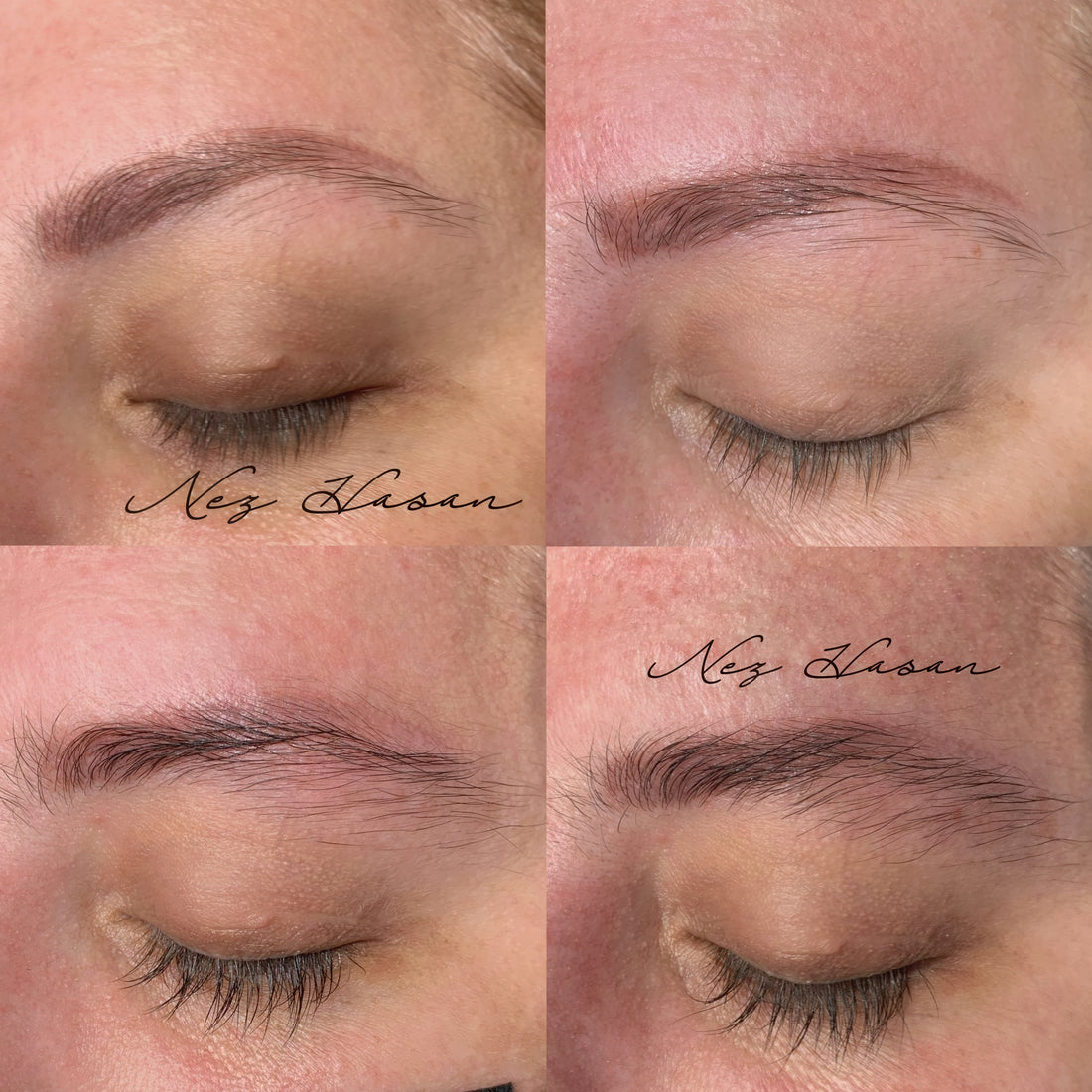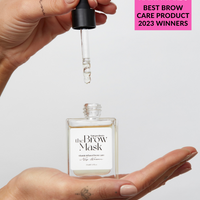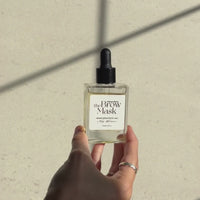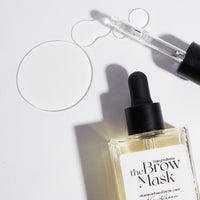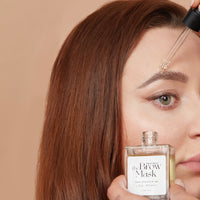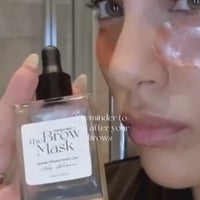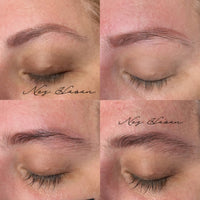 The Brow Mask is enriched with active ingredients to strengthen, thicken and nourish the eyebrows giving you the best protection and care for your delicate brow hairs. No more thinning with our deep conditioning one and only Brow Mask. 
This little bottle of magic is infused with 11 powerful vitamin-based oils each chosen by Nez Hasan to help stimulate and reawaken hair follicles especially if used alongside our Derma Roller.  

Key Benefits:
Protects against chemical damages
Enriched with active oils and vitamins to nourish every strand
High amounts of fatty acids and antioxidants to strengthen & thicken brow hairs
Penetrates the cuticle of the hair to encourage growth
100% natural ingredients
30ml
Ricinus Communis Seed Oil (Castor Oil), Prunus Amygdalus Dulcis Oil (Almond Oil), Cocos Nucifera Oil (Coconut Oil), Linum Usitatissimum Seed Oil (Flax), Agrania Spinosa Kernel Oil (Kernal Oil), Tocopheryl Acetate (Vitamin E), Aloe Barbadensis Leaf Juice (Aloe Vera), Biotin (B7), Hydrolyzed Keratin (Keratin), Allium Sativum Bulb Oil (Garlic Oil), Olea Europe Fruit Oil (Olive Oil) 
How should I use it and when?
Apply 1 drop of The Brow Mask on each eyebrow and massage in with circular movements to stimulate blood circulation. Repeat daily to nourish the hairs with all the essential vitamins your brows need. For best results, apply 1/2 - 1 drop in the morning to reduce shine. 
Can it grow my brows?
Hairgredients contain essential proteins and nutrients that can help awaken the hair follicles. We recommend the micro needle derma roller to gently prick the skin open so that these key ingredients can go into the hair follicles. 
Please note that the stimulation can only happen if the hair follicles have not died and can take a minimum of 3 months to show results with regular use.  This is a brow care.
Do you test on animals?
Absolutely not. We are also vegan, chemical & preservative free.
Does it have a scent?
Our products are unscented... and that's a good thing. Hairgredients is made with natural oils and the scent only emanates from the ingredients.  
Is the oil hypoallergenic? 
Our product is made with only the highest quality of natural ingredients and we recommend that people ensure that they are not allergic to any of the ingredients before use. This product contains traces of nuts (almond oil).
What kind of results can I expect with The Brow Mask?
The Brow Mask contains active ingredients to strengthen, thicken and nourish the eyebrows & provides essential nutrients and vitamins to help awaken the hair follicles if they are fast asleep, especially if used with a derma roller or combined with The Brow Vitamin Treatment. This vitamin infused oil has been designed to give you healthy and naturally fuller brows as it helps each strand one by one.
What if I miss a day?
Don't worry! It will still work if you miss a day or two however, consistency is the key to achieve the best results. We believe beauty comes with routine.
How long will it last me?
With the recommended regular use each bottle should last you between 3-4 months.
What do you recommend if I see growth using the oils?
We recommend you come in for our in salon Brow Vitamin Treatment where we use the Pro Use Oil with a medical graded derma pen to insert the oil deep into your hair follicles and to get them back to work from resting. If you have over plucked your brows and they are just not growing back it doesn't mean it never will they just need the little help.
What is the difference between the two products? 
The Oil Hair Mask has an extra ingredient to The Brow Mask. Also, the process and the concentration levels are different in the making and while producing in the laboratory. While one concentrates on finer hair- vellus hair (the brows) one concentrates on thicker hair strands terminal hair (the hair). 
Can pregnant women use it?
Yes! Pregnant women can use both our products and also while breast feeding as they both contain only natural infused ingredients and no chemicals are added. The in salon treatment is also safe for both pregnant women and while breastfeeding. During pregnancy hormones can change so please check you have no new allergies to the ingredients.  
Can I use The Brow Mask kit treatment over my microblading
Yes you can! However, the Brow Vitamin Treatment can reduce/fade your microblading.
Can I use The Brow Mask during chemotherapy?
Yes its completely safe during chemotherapy and after as its full of amazing natural vitamins! 
Marie Claire Hair Awards 2023 - Best Brow Care Product Winner
"Your masking routine has a new addition. This clever and targeted mask is specifically for maintaining healthy and strong brows. The experience of using this is really pleasing, said judge Madeleine Spencer for Marie Claire. The dropper dispenses the thick oil, which really coats eyebrows properly. Overnight, the oil penetrated, and I noticed that my eyebrows felt softer and more conditioned in the morning."
Featured in
The Brow Mask
The vitamin infused Oil Mask for your brows. 
A powerful cocktail containing 11 active ingredients to strengthen, thicken and nourish each strand. Our dream team provides all the essential nutrients to help awaken the hair follicles. 
The first ever brow care created with the richest vitamin ingredients to give your brows the health they long for.
Your brow journey starts here...